Lots of Changes
Wow the last week has been just crazy. So crazy in fact, I was thinking I was supposed to get a Tool Time Tuesday out today when I noticed that it wasn't Tuesday, it was Wednesday. We have now been here for 3 weeks, as of today. In some ways it seems so much longer than that and others it doesn't seem possible that it has been 3 weeks already. The weather has been mostly rainy, but yesterday and today were so beautiful. Not a drop of precipitation and the temps were fairly mild. I took advantage of that and took a nice long walk with my baby. It felt great to get out.
We are living in a fairly nice community just outside of Vancouver, Washington. After we got here, I got my two oldest girls enrolled in school. My oldest is in 6th grade and the next one is in Kindergarten. Well, the first day I took Riley to school was quite the shocker when it came to the kids. Now I am certainly one to not judge people on their looks as I love the freedom of expression that comes from it. Most of my friends were rather "colorful" when I was in high school. But I expect that of high school kids, not 6th and 7th graders. Their behaviors were also much more liberal than we are used to as well. So much so that Riley was actually quite uncomfortable with them. We came from some really great schools where the students and teachers really show respect for each other. When we attended church the first couple of times, my concerns were validated. We were told of another school that a lot of the kids have transferred to. We were fortunate to find out that there was room in the 6th grade and the bus picks up only one street over. So Riley started at the new middle school on Monday. She came home and when I asked her about her day, she beamed and said, "It was WONDERFUL." It was such a relief. She has enjoyed all three days there so far.
Kate had been attending kindergarten on a full time basis in Ohio. But here the school is only 2 1/2 days. That was kind of hard for me to deal with also as she has been in full time preschool for 2 years and then full time kindergarten. But again, we found out about another school that did have a full time program. We were so blessed. There are only 54 kids in the school (K-6) and there is a waiting list for the Kindergarten/1st grade class. Last month, one little girl moved out and there was an opening. They weren't really letting kids in because it is too hard for kids to adjust from part time to full time in the middle of the year. But because we came from a full time program, they let her in. I have to drive her a little further to catch the bus, it used to pick up at the corner, but she is really happy and she is already doing really well. There are also some other opportunities she is going to have, like swim lessons, that she wouldn't have had otherwise.
So even with just that, I have been busy. I have my classes in canada in just a little more than 2 weeks. I have been frantically trying to find my tools and materials. That has proved rather time consuming and difficult.
The other thing that is really getting me right now is this new Mac that i am working on. Even right now, I was about to hit save and post this entry. But one little swipe of my fingers and the last 30 minutes of work is GONE! SCREAM!!!!!! UGH!
I did finally find my bur-life and saw blades and have been working a little on some piercing.
These will be samples for one of the classes that I am teaching. I am hoping to get a few more samples for each of the classes I will be teaching.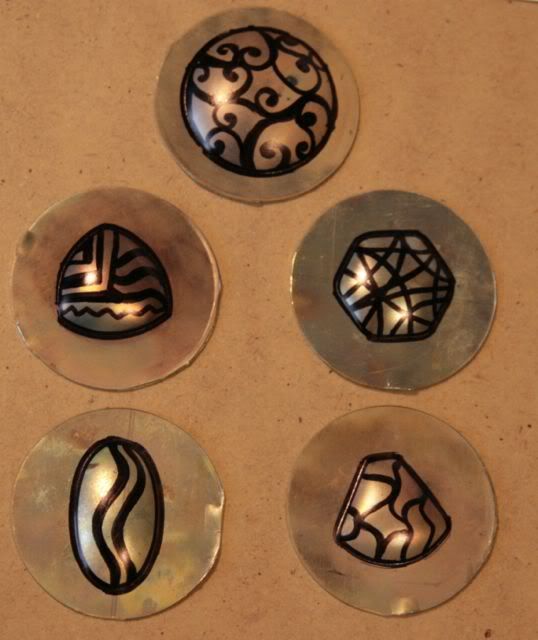 These are a bit rough right now as i have only started the clean up. I still need to file them and finesse the piercing. I have decided that I won't be letting the students get too elaborate on their pieces. Piercing on a flat sheet is one thing, but it is quite another story when trying to cut a domed piece of metal.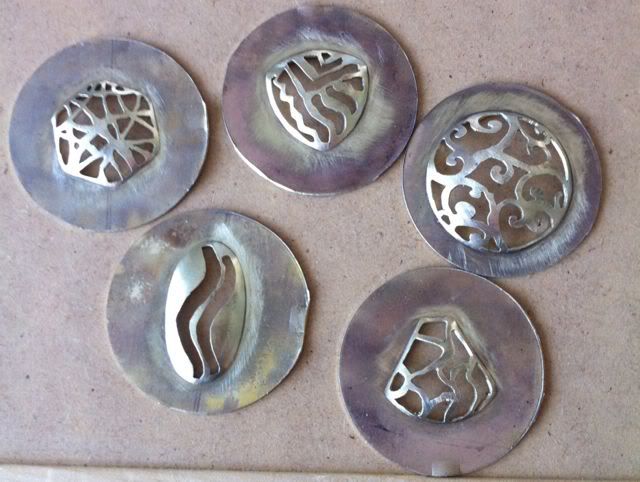 So that is where things stand right now. I still need to figure out how to use this computer to get my handouts done and photos edited. It is proving rather difficult for me. I used to be a professional computer trainer for years and years. I am not used to being lost when it comes to working a computer. But Mac's and PC's are light years apart. LOL.
Okay, one last thing. Lighting. The lighting in this studio (living/dining room) is AWFUL!!!!! What do you use for lighting? I have a couple of lamps, but they aren't cutting it. I really miss my studio. It really makes me appreciate what I really had.
Trackbacks